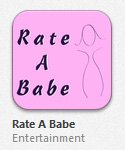 Rate-A-Babe is a male only version of AreYouHot, another application from iFunStuff.com.
A lot of users requested just a "Rate A Girl" version of AreYouHot so here it is! This version is only for Men to Rate Women!
Rate-A-Babe allows you to take a picture of a woman and the program will analyze their face and provide a rating from 1-100!!