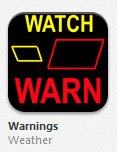 Warnings will allow you to display the National Weather Service watches and warning for any Zipcode in the USA!
You can store five pre-set locations on the main screen. You can also use your current location to see if you are currently located in a watch or warning area.
Warnings will allow you to also search for a city name to see if that city is in a Watch/Warning area.
This application is great for allowing you to see the Watches/Warnings in your area or any area in the country.